Getting to know Ji Kyung Yang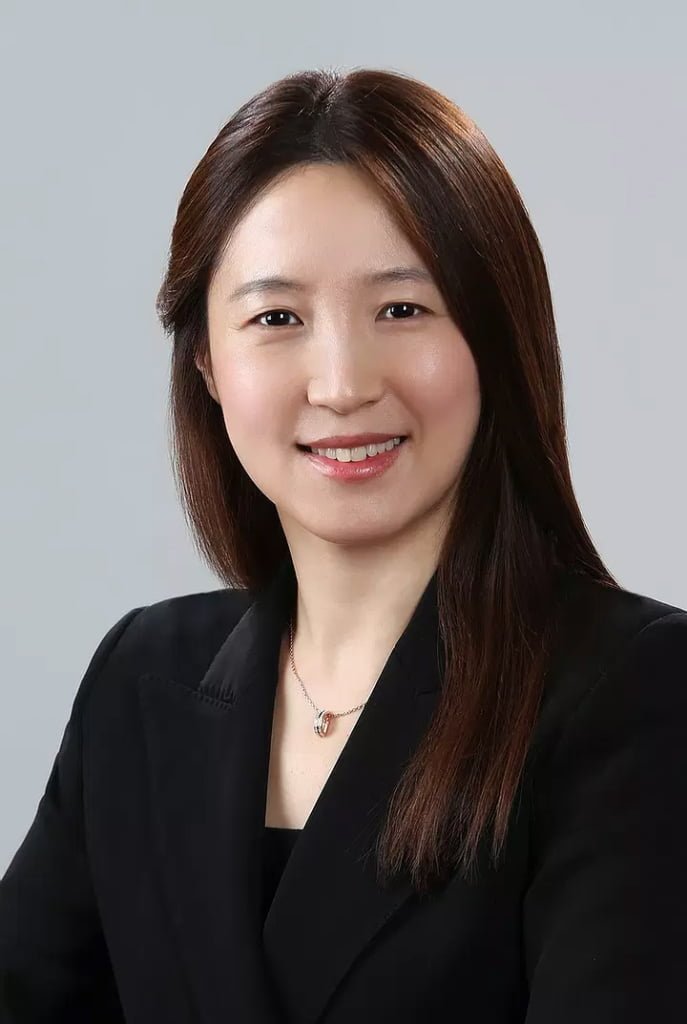 I am a trainee solicitor of Shaar Bridge Solicitors which was set up in September 2019 with the motto of 'Community Based Firm'. I am very proud that our firm has the aim of not only providing the best quality legal service to community but also broadening our horizons and reach to all those who require our legal services and support.
We are also very pleased to announce that we have chosen 'Sight Concern Bedfordshire' as our Charity of the Year 2020. Sight Concern Bedfordshire is a local independent charity which aims to enhance the independence and quality of life of blind and partially sighted people living in Bedfordshire area.
It is surprising to know that there are in fact over 3,000 people in the Bedfordshire area who are registered either partially or severely sight impaired. There are many reasons why people find themselves facing life with partial or no sight, and it can be a very daunting time. Something you have always taken for granted suddenly deteriorates and you find everyday tasks extremely challenging or not achievable at all. It can also come with other challenges like the financial implication of their condition such as not being able to work and struggling to make ends meet.
Sight Concern Bedfordshire provides a range of services including community support workers, specialist advice and support to claim benefits, low vision services, resource centres, home visiting, talking newspapers, audio transcript services and social and IT clubs, etc.

Shaar Bridge will be supporting Sight Concern Bedfordshire throughout this year, by way of raising funds for them, participating their charitable events to support, and providing legal services they need. Alongside our 2020 vision of ensuring that the residents of Bedford are supported by Shaar Bridge Solicitors in their pursuit of legal justice, we are also committed to return to the community all the trust and support that we have received from the community through Sight Concern Bedfordshire.
We are looking forward to an amazing 2020!
A look at Unfair dismissal & wrongful dismissal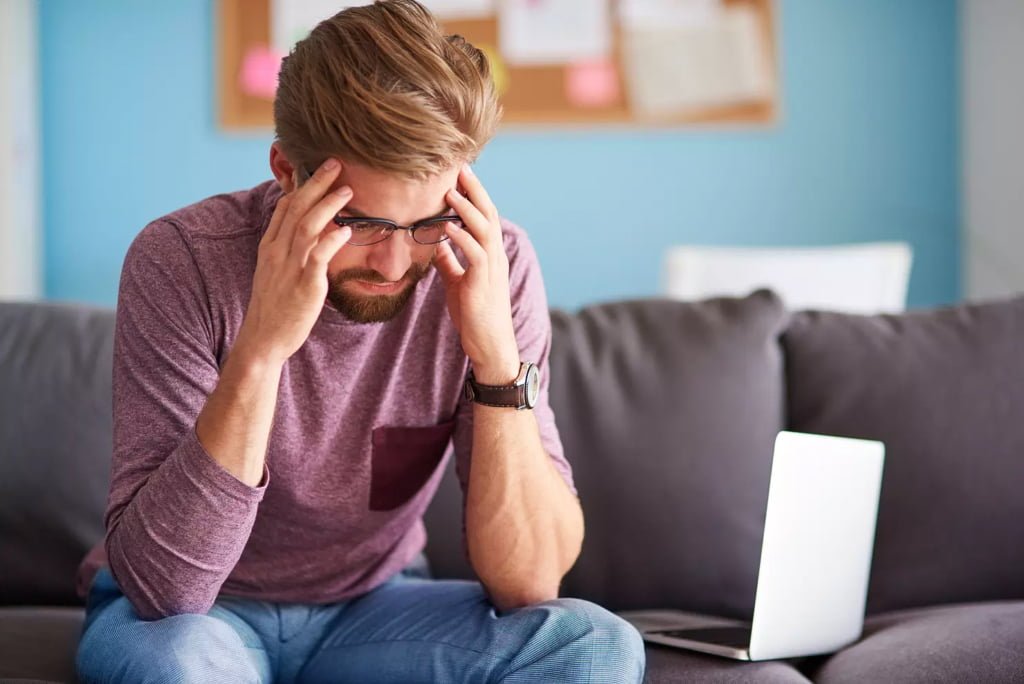 Shaar Bridge Solicitors are experts in Unfair Dismissal and Wrongful Dismissal claims. We have handled many claims in the employment tribunal on behalf of both employers and employees, including high value claims.
What is an Unfair Dismissal?
An employer who dismisses an employee without a good reason or without following a fair procedure put itself at the risk of a claim for unfair dismissal. This is a statutory claim under the Employment Rights Act 1996.
To defend a claim for unfair dismissal, the employer has to establish that the reason for the dismissal was fair. Fair reasons are as follows: capability or qualification; misconduct; redundancy; the continuation of employment would contravene a statute or other enactment; Some other substantial reason.
Even if there is a justified reason for dismissal, the dismissal will still be unfair if the employer has not followed a correct process. This could be, for instance, where the employer has not followed a proper consultation or selection process in a redundancy situation.
What is a Constructive Dismissal?
For the purposes of an unfair dismissal claim, the dismissal can be actual dismissal or constructive dismissal. Constructive dismissal occurs where the employer has fundamentally breached the contract of employment, the employee has resigned in response to the breach and the employee does not delay unreasonably before resigning.
What is Wrongful Dismissal?
A wrongful dismissal claim is a claim by an employee against an employer for breach of contract. Common situations would be where an employee has been dismissed without notice or with insufficient notice or where the employee resigns without notice in circumstances amounting to constructive dismissal.
A dismissal will not be wrongful where an employment contract expressly provides that the employer may terminate without notice by making a payment in lieu of notice and the employer makes a payment in lieu of notice. Also a dismissal without notice will not constitute wrongful dismissal if the employee is guilty of gross misconduct or has otherwise fundamentally breached the employment contract.
For advice on unfair dismissal or wrongful dismissal claims, please contact us on 01234 810 786 or email jaffar@shaarbridgesolicitors.com to discuss your requirements in detail.
Success in license revocation case!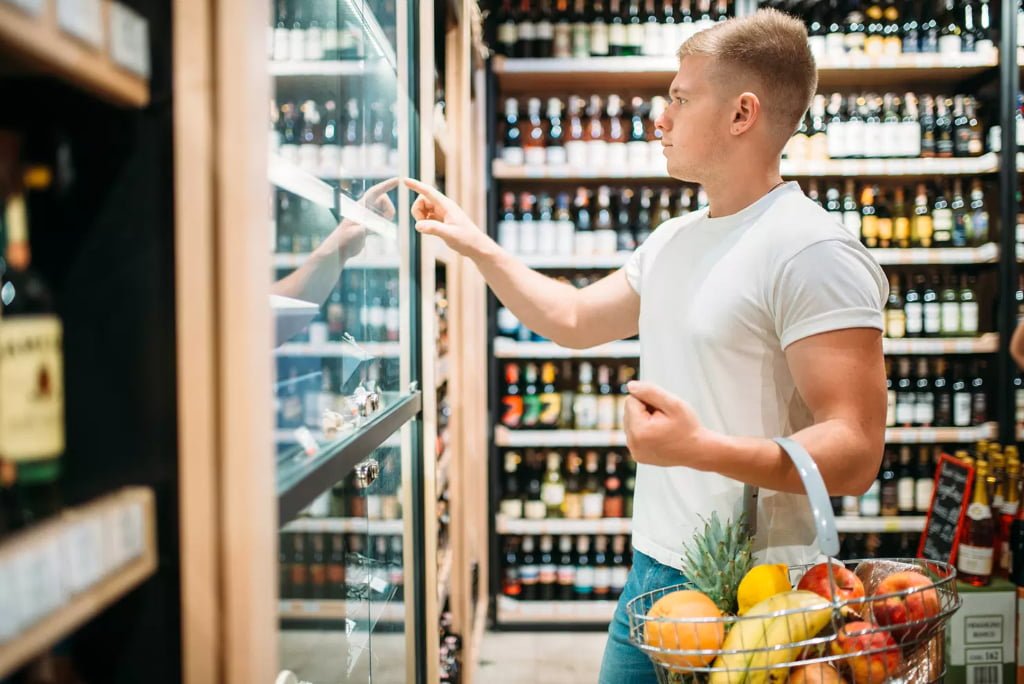 Mr S owns a family run shop in Bedford. He and his wife often serve customers at the shop themselves.
One quiet afternoon, whilst Mrs S was working at the shop, two young customers purchased alcohol and left the premises with their purchases. Unknown to Mrs S, the two customers were not of age for purchasing alcohol and Mrs S failed to ask for ID.
Mr S was issued with a letter from the prosecuting authority stating that he will need to go to court and due to the offences committed, his license may be taken away from him. He was also told that he could serve a custodial sentence and pay a fine of up to £5,000.00.
Mr S came to Shaar Bridge Solicitors and informed us of what happened. This was only one day before the hearing. Jaffar Shah took the case on and went to court the next morning.
Jaffar negotiated with the prosecuting authority and requested for the charge to be changed. After much deliberation, the charge was changed. Jaffar then presented the bench at the magistrates with strong mitigation and as a result, the judge deemed that Mr S should not have his licence revoked nor serve a custodial sentence. Instead Mr S paid a small fine of £400.00 and the matter was not taken any further.
Mr and Mrs S were extremely happy with the result we got for them. We, at Shaar Bridge Solicitors, put 110% into getting the best results for our client.
Are you subject of a prosecution? Do you need our assistance? Call us today for a free consultation on 01234 810786.
Something a bit different!
Shaar Bridge Solicitors may be a law firm but we also like to have some fun! Complete the crossword for a chance to win an Amazon Voucher! Tweet us or send us an email of the completed crossword to Shaar.Bridge@gmail.com @Shaar_Bridge #ShaarBridge #Crossword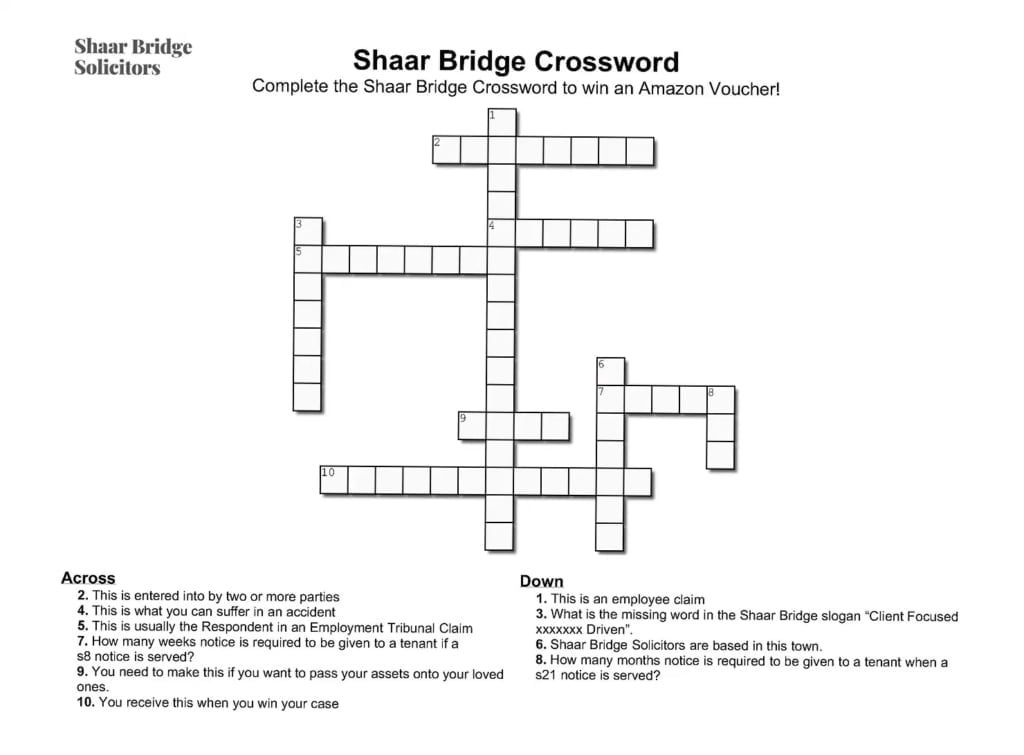 Remember to tweet your answers to @Shaar_Bridge #ShaarBridge